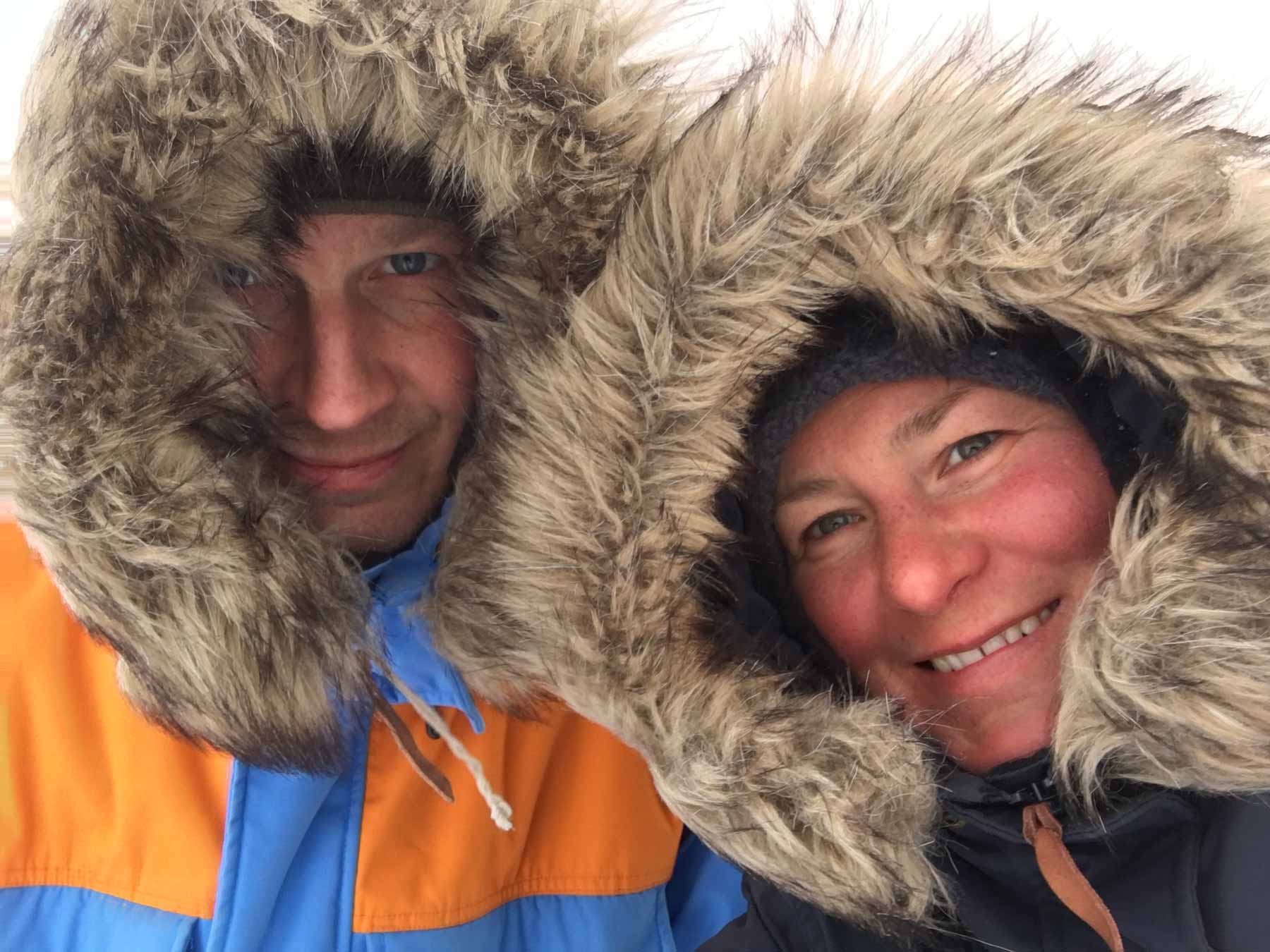 Aksana and Antti Kurola
The lives of Aksana and Antti became entwined as they were mountain climbing in Kyrgyzstan. They felt they were best when working together. They simply perfected one another. The couple continued their adventure climbing and skiing around the world until they realised just how much they had to experience close to home. They left the large mountains for the fell highlands and expansive wilderness of Lapland. Joining them on the journey is their furry friend Ruska – their first Alaskan husky.
Soon they found their own place to settle down on the banks of Lake Sierijärvi by the town of Rovaniemi in Lapland.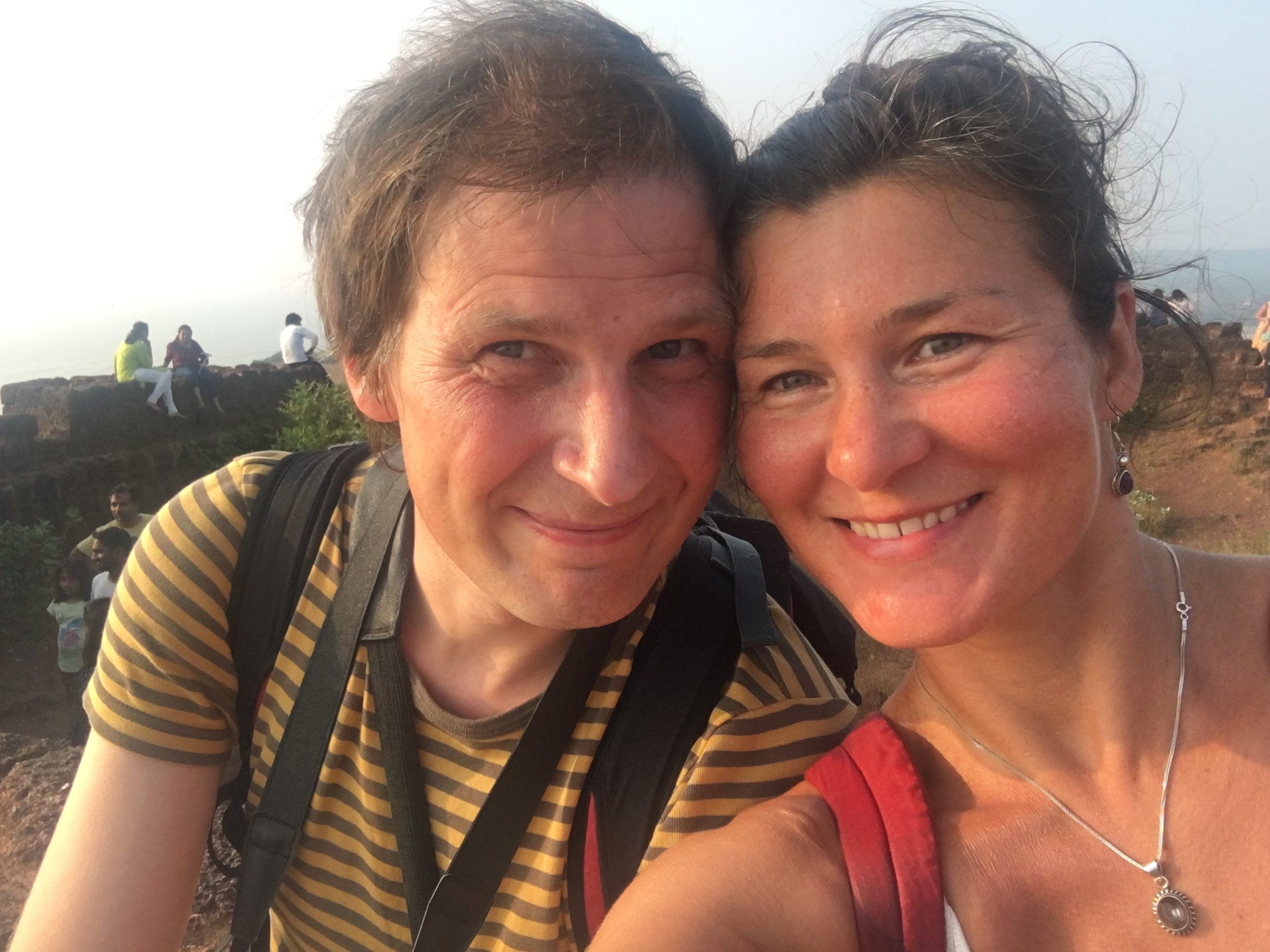 This adventurous couple has worked in the great outdoors for 20 years. They have filmed their trips, written hundreds of articles, and based on their outdoor experience they have been involved in the product development of outdoor supplies.
Antti is a professional photographer and guide who particularly focuses on outdoor photography. He has done photography for advertising for a number of large enterprises. He also owns his own brand Kurola Photography, making it possible to express his artistic impressions of the beauty of nature. Antti's images have been used to decorate a number of hotels and he has held a number of photography exhibitions. The Finnish Post Office has also used his pictures for its stamps. Antti has a photography gallery at his work premises.
Aksana organises yoga trekking and retreats all over Lapland and at her home in Sierijärvi, Tuulenpesä Home Farm.
Nature provides content for Aksana's tales, the treks she organises, yoga practice and training sessions.
Nature with its fantastic diversity, delicious wild food made from natural produce, yoga, meditation, ease of breathing, yoga treks, husky sled rides, and meeting lovely people are the things they love most about their work.
"It is wonderful to be able to offer unforgettable experiences for people visiting Lapland. Seeing how we give people so many happy moments makes us happy."
Aksana's own yoga experiences started back in 1991 and she has worked as a full-time yoga teacher for around five years. Her special focus is on yoga therapy.
Perhaps the greatest and most significant learning processes for Aksana have been obtained from spending long times alone in the wilderness. The wilderness facilitates a deepening of life's levels: to feel, comprehend and internalise.
"The most important and intrinsic learning I have received is listening to my own heart. Time needs to be reserved for taking a moment to stop and feel the strength of presence and internal wisdom.
Through my own misfortunes, thankfulness, leniency, resilience, loving oneself as one is and the power of focusing on life's positive sides have become significant issues."
We hope that our paths will one day cross and we can head towards a balanced, prosperous life, and the life that suits you best – or perhaps experience an unforgettable moment on your trip to Lapland.
The fantastic experiences we feel are important and unique are precisely what we want to share with others.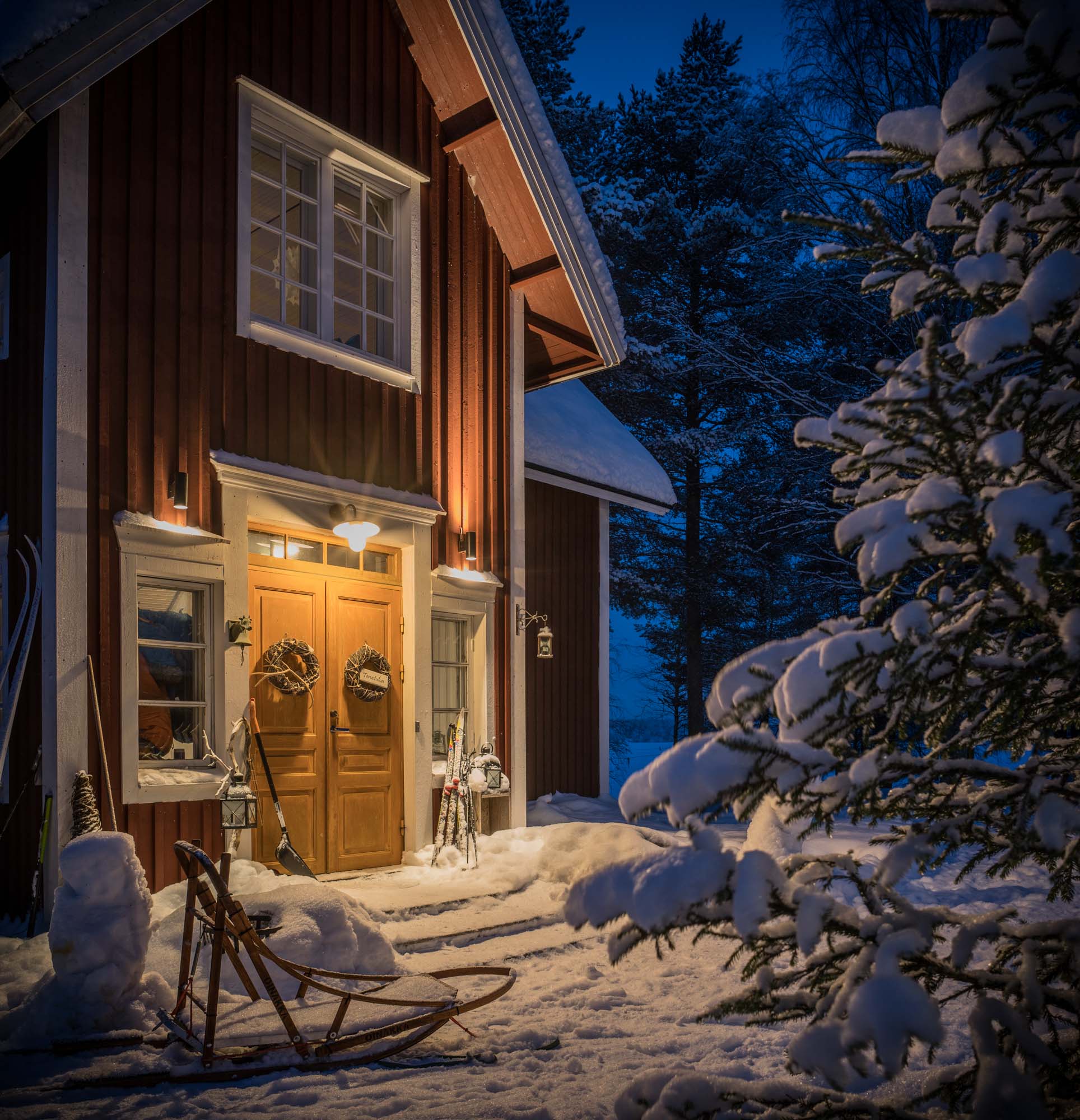 Home – Tuulenpesä Husky Home & Retreat
Our home is a place we hold dear and we warmly welcome you to join us as our guests.
Located on the shores of Lake Sierijärvi in Rovaniemi, Finnish Lapland, Tuulenpesä is home to nine Siberian huskies, a cat and our four-person family.
This old farm is rich in ambiance and offers you the opportunity to experience the tranquillity of nature and taking a moment's rest during your trip in Lapland.
The farm was established after the war in 1948. The cottage was once used for carving sleighs – now it is a great place to relax, chat and enjoy existence by the great farmhouse oven. You will get to taste local organic delights, such as savoury snacks, delicious pancakes garnished with jam made from Lappish berries or perhaps delightful organic berry pies served with herbal teas, coffee or hot chocolate in the glow of the open fire. The vitality of summertime is preserved in
the tasty treats we serve. Gluten-free, vegetarian and vegan specialties are available to order.
Our farm holds all the keys to wellbeing; a small yoga hall and atmosphere-rich sauna, as well as the chance to take a dip in the lake. In the winter we cut a hole in the frozen lake and arrange winter swimming. We use pure Lappish herbs and berries in our sauna treatments.
The former stables and cattle barn is where Antti has his photography gallery and gift shop offering genuine Finnish products: Antti's interior decoration images and postcards, as well as handicrafts and natural products.
Sense the Arctic spirit in wintertime with a husky sled ride, cross-country skiing or snowshoe hiking, bathing in the sauna and winter swimming. During the summertime you can swim, go canoeing, take a husky trek, experience forest bathing and feel a true connection with the spectacular nature that surrounds you. By picking wild herbs and berries we are storing summertime energy.
The blissfully peaceful Tuulenpesä Husky Farm & Home Retreat is located 13 kilometres from the city of Rovaniemi.
CONTACT
Harmonia – yoga & nature
Aksana Kurola
aksana@yoganature.fi
044-3131408
Sierijärventie 328
96600 ROVANIEMI